FOR IMMEDIATE RELEASE
For More Information Contact:
Brian Looney, PE
CRW Engineering Group, LLC
BLooney@crweng.com
(907) 562-3252

CRW Engineering Group named a Platinum-Level Bicycle Friendly Business by the League of American Bicyclists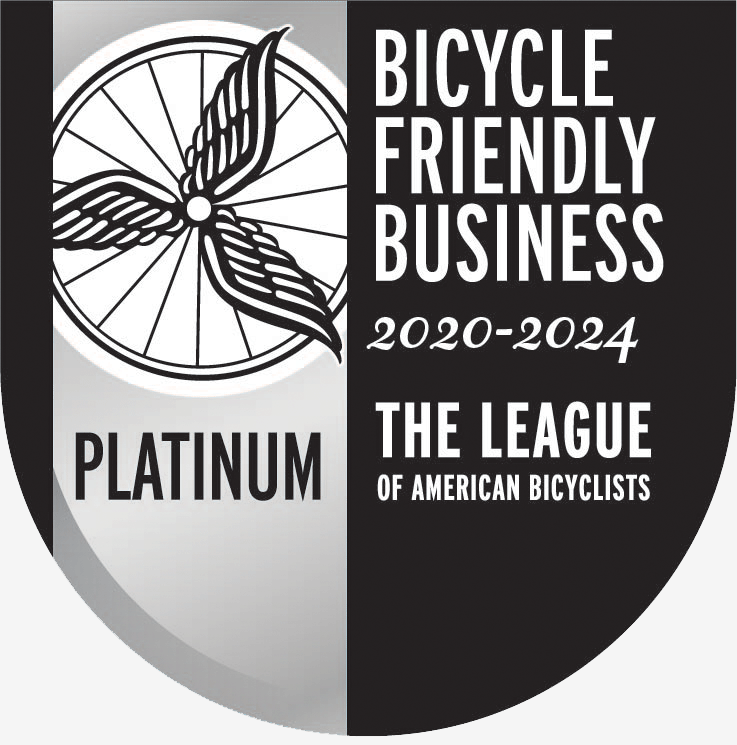 July 9, 2020, Anchorage, Alaska – The League of American Bicyclists has recognized CRW Engineering Group, LLC (CRW) with a Platinum-level Bicycle Friendly Business (BFB) award, earning the firm a place alongside 1,400 other businesses across the country helping to build a more Bicycle Friendly America. Only 71 businesses in the nation have earned the Platinum-level status, designating the highest level of commitment, and CRW is the first business in Alaska to be recognized with the honor.
"Since CRW applied for the Bicycle Friendly Business award in February 2020, much has changed across the country," said Bill Nesper, executive director of the League of American Bicyclists. "What hasn't changed is the commitment of our Bicycle Friendly Business award winners to the health and well-being of their employees, customers, and community through the promotion and encouragement of bicycling as a means of transportation, fun, and fitness. Thanks to the leadership of organizations like CRW, more people will have the opportunity to choose to bike."
CRW joins 75 other new and renewing BFBs in the League's spring 2020 round of business awards, which includes government agencies, Fortune 500 companies, bike shops, and other employers across industries, all united in a commitment to transform American workplaces to be more welcoming to customers and employees who bike. The Bicycle Friendly Business award recognizes an organization's contributions over months and years to the movement to build a Bicycle Friendly America for everyone. Alaska has had just eight BFBs and CRW has been recognized as a Silver-level BFB since 2012.
"CRW is a long-standing advocate of active transportation, particularly cycling. Over the years we have cultivated a supportive, bike-friendly workplace for our staff," said Brian Looney, a civil engineer and CRW principal. "When employees bike, great things happen, including increased staff camaraderie, a decreased carbon footprint, and reduced healthcare costs. We take pride in planning and designing bicycle-friendly infrastructure projects throughout Alaska."
The firm has an active transportation friendly culture and encourages bike commuting with a secure indoor bike storage area for staff and visitors, a locker room, and incentives for participating. CRW's project portfolio includes a number of bike infrastructure upgrades including new bike lanes and Anchorage's first bike boulevard on 10th Avenue. CRW has donated nine public-use bicycle tool stations located throughout Alaska and creates bike maps for the Anchorage and Mat-Su communities annually.
To learn more about the BFB program, visit www.bikeleague.org/business.
CRW Engineering Group, LLC is a full-service firm based in Anchorage with a branch office in Palmer, offering innovative engineering and land surveying solutions. Founded in 1981, our goals are to serve clients with dedication and responsiveness, and help make Alaska communities better places to live. CRW has partnered with over 160 communities to offer expertise in a wide variety of professional services, including civil, mechanical, electrical, structural, and geotechnical engineering; land surveying; and planning. For information visit www.crweng.com.